Bob McCann
Posted: 09/04/2012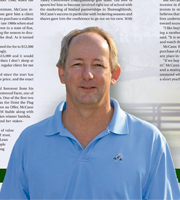 Bob McCann is a native of  Winchester, KY.  Bob graduated in 1982 from Morehead State University where he attended on a golf scholarship.  After lettering for four years, he worked in various aspects of the thoroughbred industry.  In October of 1986, McCann Bloodstock was founded and has been in operation for over 25 years as an independent owner, breeder and bloodstock agent.    His involvement in the industry covers a wide range of areas; as to purchasing horses privately and at public auction for clients, stallion syndications and placing stallions at many Kentucky Farms and regional markets, mating consultation, stallion seasons/shares, and appraisals.  In addition, he has bred and/or raced numerous stakes horses with the pinnacle being co-breeder of Kentucky Oaks winner Sardula.  He maintains his own personal portfolio of approximately 27 horses that includes breeding stock, racehorses and stallion shares.
Bob is currently serving on the board of the Kentucky Thoroughbred Association a member of  The Thoroughbred Owners and Breeders, Kentucky Farm Managers Club and The Thoroughbred Club.
He resides in Lexington,  KY and has two daughters, Callaway and Ellen.